Social Scoring As the New SEO

Lately I have noticed that Klout is getting a lot of traction in discussions about social media. It may be that there is just more coverage, or the name has started to penetrate to more users, or the idea of social scoring is becoming more interesting to marketers. It's also possible that I am keyed into it because I don't really believe the scoring model is truly accurate. On this last point, you can see my blog post from Tuesday, Does Your Klout Score Mean Anything? to understand my skepticism.
My skepticism was not assuaged when I noticed that my Klout dashboard (yes, I finally signed up) claims that my score has gone up 2 points in the last 30 days, justified by the handy plot Klout provides of that same period, even though I know 30 days ago my score was 7 points lower (I took a screen capture). It appears that after I added my Facebook and LinkedIn profiles to Klout, it retroactively adjusted my score. Which sounds very much like revisionist history and further erodes my confidence in Klout's platform.
Despite this clearly math-free scoring model, Mashable opened an article (with the technically accurate, but still unfortunate page address of klout-gate) last week with this unsurprising statement:
Your Facebook influence, as measured by Klout, will determine your access level to select brand pages on Facebook — and it could net you perks.
This weekend The New York Times published Got Twitter? You've Been Scored where it examines the scoring trend and what it means for consumers.
Companies with names like Klout, PeerIndex and Twitter Grader are in the process of scoring millions, eventually billions, of people on their level of influence […] [T]hey are beginning to measure influence in more nuanced ways, and posting their judgments — in the form of a score — online.
The New York Times article takes it a bit further and outlines specific examples in the real world where a Klout score can have an impact on the perks, benefits and discounts a consumer might receive from brands:
More than 2,500 companies are using Klout's data. Last week, Klout revealed that Audi would begin offering promotions to Facebook users based on their Klout score. Last year, Virgin America used the company to offer highly rated influencers in Toronto free round-trip flights to San Francisco or Los Angeles. In Las Vegas, the Palms Hotel and Casino is using Klout data to give highly rated guests an upgrade or tickets to Cirque du Soleil.
While I believe this has significant parallels to SEO in its early days, the key difference is that this impacts individual consumers, not organizations trying to promote their web sites. The direct correlation with a tangible cost (whether by discount or freebie) also appeals to an individual more readily, since you don't need an accountant and a balance sheet to figure out the benefits.
Since Klout score is partly driven by your Twitter follower count, Twitter replies, Twitter retweets, Facebook friends and comments, and now LinkedIn activity (with the promise of Foursquare in the future), we can expect to see the recent scourge of Twitter follower guarantees (among others) make a comeback. Within a company, you might have an individual tasked with wading through these detrimental sales pitches, but the average consumer who wants a discount at a hotel might not understand that a promise of thousands of Twitter followers may ultimately guarantee a significant reduction in one's "score."
If you read this blog, then you are either technically capable, fancy yourself a social media expert, or think you know something about SEO (or you're my mom — Hi Mom!). Now would be a good time to take those skills and try to help your friends and family. Look for the same trends we saw in SEO spam ("Submit your site to hundreds of search engines!") and social media spam ("Twitter followers guaranteed!"), only with promises tweaked to the new target market (consumers).
Just as some companies wear their Google Page Rank with pride (or shame), we may start to see individual people do the same with the per-person analogue — their social influence score.
Update: May 10, 2018
Klout has announced today that it is closing shop on May 25. Just in time for European Union's General Data Protection Regulation (GDPR) to kick in (on May 25). I also forgot Klout existed, but at least my score made it up to 58 from a start of 42. Whatever any of that means.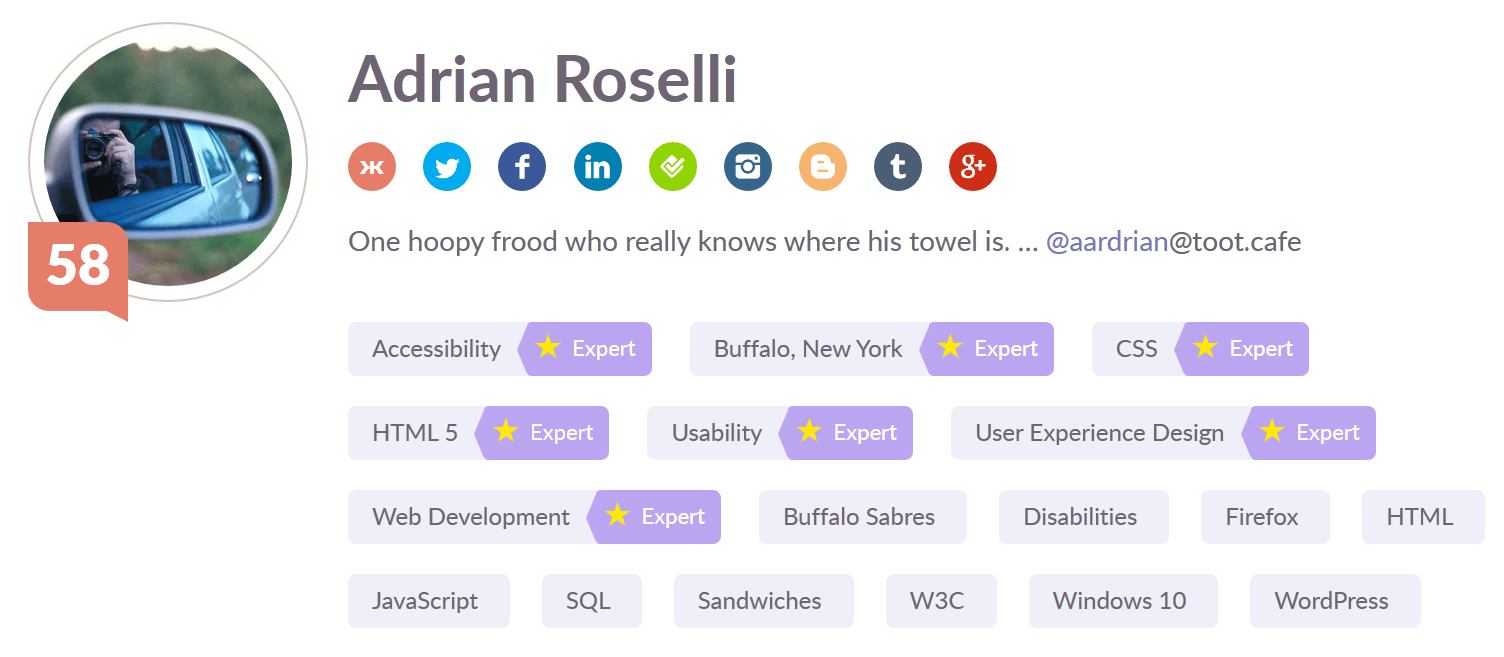 To all of our fans: after careful consideration we have decided to shut down the Klout website & the Klout Score. This will happen on May 25, 2018. It has been a pleasure serving you, and thank you for your ongoing support over the years. Details here: community.lithium.com/t5/Lithium
I look forward to whatever Chinese start-up comes along to replace it that we can all ridicule.
No comments? Be the first!