role=dice for #a11yTOgaming
I had the pleasure / terror of presenting a table-top RPG presentation at this year's accessibility Toronto gaming (#a11yTOgaming) event.
My 0riginal PowerPoint presentation, which includes my speaker notes / ignored script as well as the videos (79MB). Or grab the much smaller video-free tagged PDF (13.2MB).
Assorted links I presented in the talk:
Here it is, friends. A massive compilation of resources, documents, tools, and more addressing accessibility in tabletop gaming, streaming, and life. I'm incredibly proud to share my Accessibility in Gaming Resource. docs.google.com/document/d/1ZF… (1/)
THE COMBAT WHEELCHAIR v3.0.1 is here! Errata has been made to clarify and streamline rules both core and for the 14 subclasses (including a whole new class with 4 subclasses & @matthewmercer's blood hunter). Everything else remains & still 100% FREE #dnd drive.google.com/drive/folders/1K…
pic.twitter.com/Fm12bI8M7x
Video
Videos used in the talk follow. I made no effort to compress these as I wanted them just for the presentation. I opted to drop them here anyway though.
Slide 24
Slide 29
Slide 34
Tweets
Yeah, just the one that wasn't mine.
Next, @aardrian shows how using virtual tabletop tools like D&D Beyond can overcome many accessibility barriers in tabletop roleplaying games, like automating calculations or reminding players of their options, and allowing zooming the interface for legibility. #a11yTOGaming pic.twitter.com/3Va9I1rZMM
twitter.com/cherryrae/status/158…

Seriously, for REAL. I kept saying I was fine with remote presentations but there is nothing that will ever be close to being able to BREATHE, and flow, and respond with a live audience… especially one that allows you to kick WCAG… and then kick it while it's down 😋😘

Thanks to Aderyn specifically for being the friendly face in the crowd. I was full-on panicking before I got up there, then tech issues happened.

Aderyn knew and was smiling back at me as I powered through.

Having an audience ally is a FSM-send.
Live D&D
Devon Persing DM'd a brief session with Steve Saylor, Shell Little, Sarah Higley, and I. My assigned character was a tabaxi wizard I named Dandy Copperfur. As far as I know, there are no photos. Except this one where I showed off the DM screen I brought.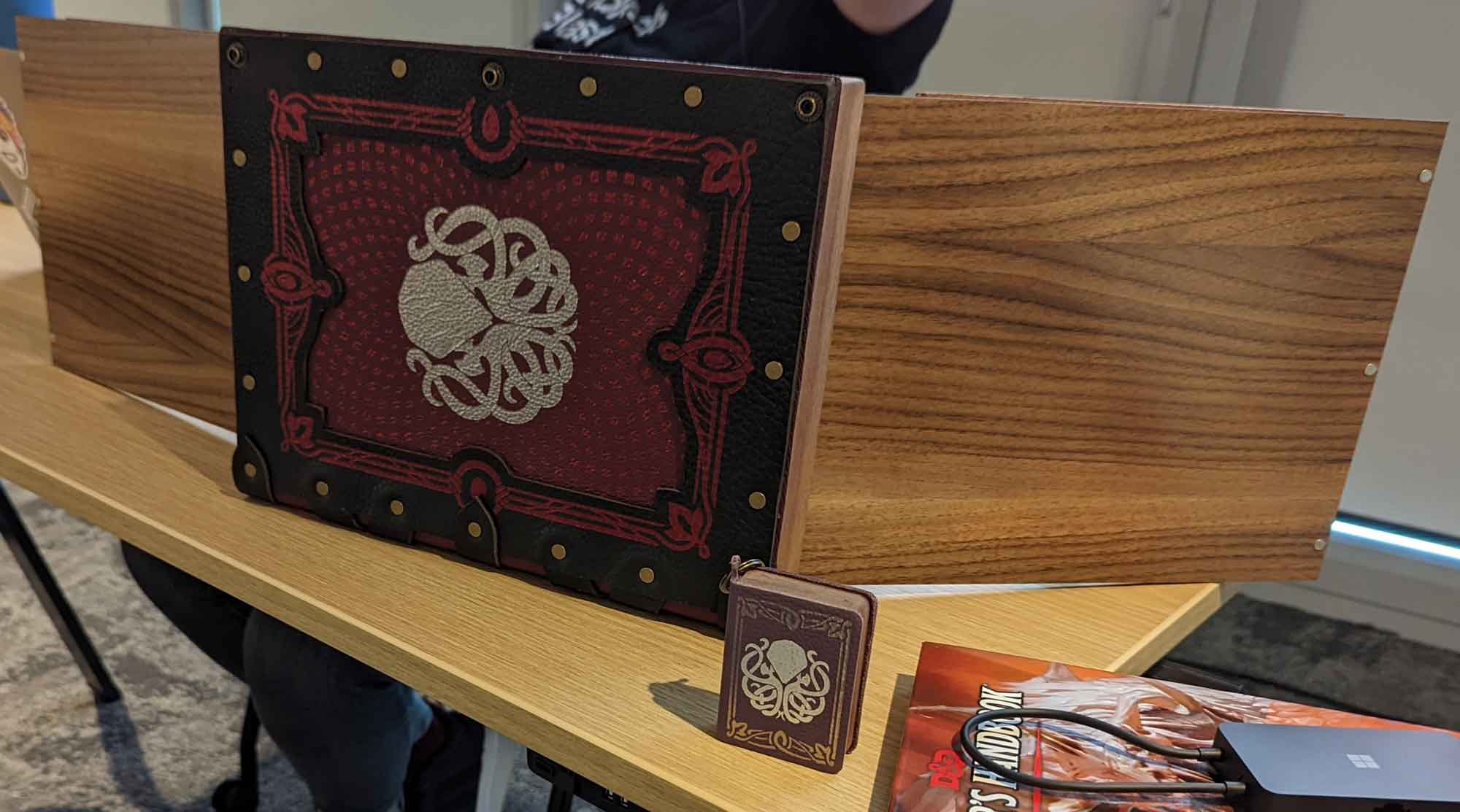 No comments? Be the first!