Web Sites as 'Public Accommodation' under a Pandemic
When an organization receives an accessibility complaint about its web site, a common defense is that there are physical places available for a customer / constituent / user to complete transactions. With a brick-and-mortar available, the web site is simply an added service and so is exempted from Title III of the Americans with Disabilities Act (ADA).
To qualify, I am not a lawyer. My notes here are not legal advice, but they are worth considering for the more risk averse.
Title III of the ADA is meant to prevent discrimination based on disability in places of public accommodation, namely businesses that are generally open to the public such as restaurants, movie theaters, banks, schools, and more. It also includes non-residential privately-owned facilities — offices and factories, for example.
In Robles v. Domino's Pizza, the Ninth Circuit Court of Appeals ruled that the web site and app offered by Domino's are covered by the ADA (January 2019), reversing a lower court ruling. The United States Supreme Court then declined to hear the case, letting the decision stand (October 2019).
Separately, in Martinez v. San Diego County Credit Union the San Diego Superior Court ruled that its web site was not covered by Title III because of the 43 branch locations scattered around the area (February 2019). Leaning on a ruling from Carroll v. Northwest Fed. Credit Union from U.S. District Court for the Eastern District of Virginia (August 2018), both cases ruled that web sites do not count as places of public accommodation.
So here is where it gets tricky. If you dodged an accessibility lawsuit because you have physical locations, what does it mean when those physical locations close? What about when the number of locations or the operating hours are reduced?
What if that information about reduced hours or locations is available on your web site, which is itself inaccessible, as in this example from the San Diego County Credit Union COVID-19 page?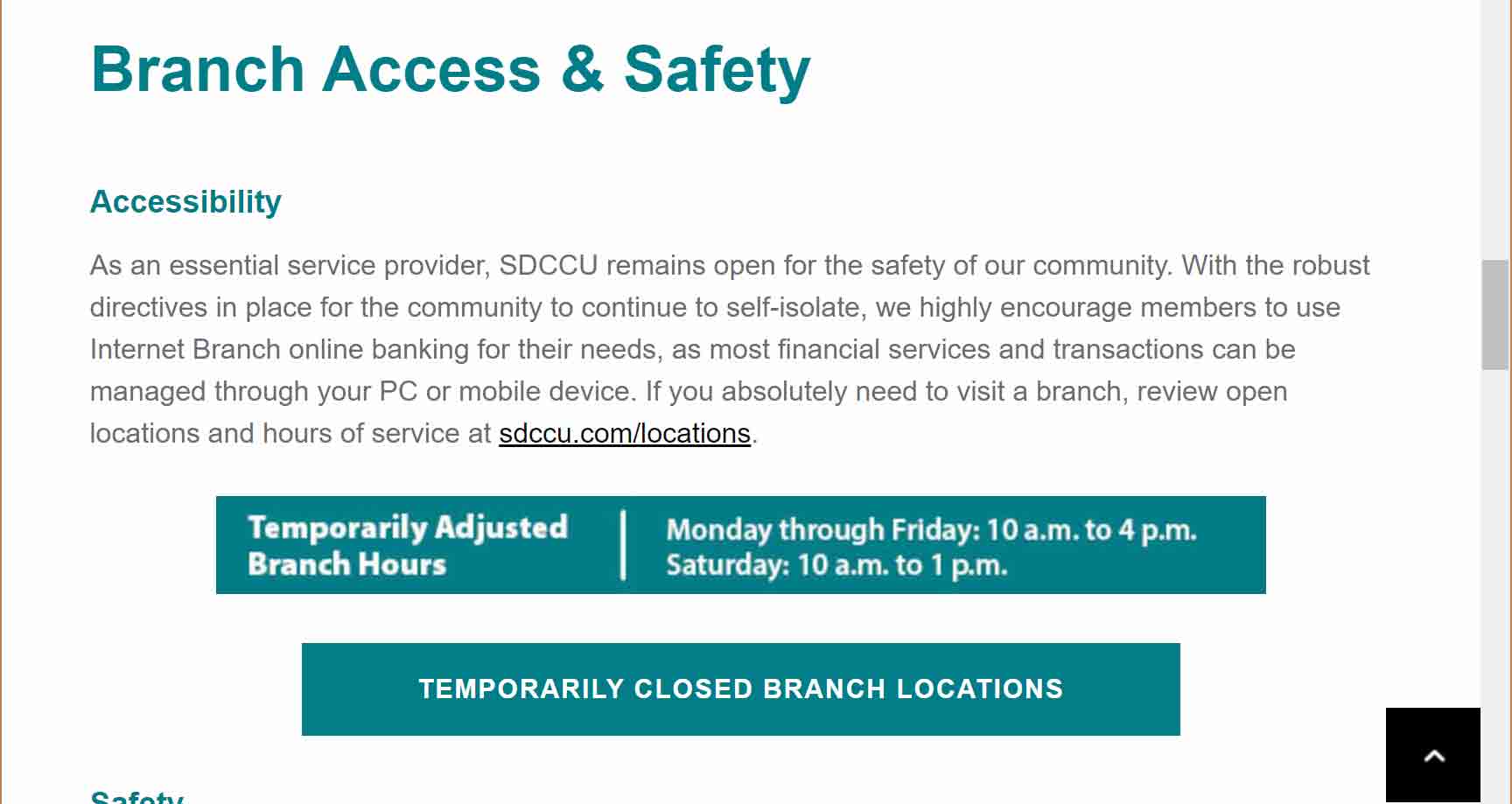 As movie theaters, restaurant ordering, college courses, and more move to online-first delivery, the notion of a corresponding brick-and-mortar venue falls away. If the current pandemic physical distancing measures stretch into the next year as many think, then this blip becomes the de facto new normal.
I am not suggesting anyone file suits against already-struggling businesses. Lodging a complaint against your local art house cinema or corner deli is a jerk move. But for those businesses who are looking to provide movie streaming services or online menu aggregation, they need to ensure the platforms they are selling to these small businesses are up to task.
For larger organizations such as banks and universities, all those accessibility efforts that were back-burner goals, lost in the backlog, need to be moved up in priority. Any organization that has a risk mitigation mindset should already be ahead of this.
Accessibility practitioners need to convey the real-world impacts on users and customers and help organizations prioritize quick wins for users. Framing the potential lost revenue and bad PR is an option, though per WebAIM's Hierarchy for Motivating Accessibility Change I would hope we can all find a way to inspire organizations to do the right thing.
At the very least, we all need to make sure the COVID-19 information put out by any and every organization is accessible immediately. Anything else is unacceptable.
No comments? Be the first!