We Know You Have Alt Text, Twitter
Users have repeatedly asked for a method to provide alternative text for images on Twitter. Since so many of Twitter's features today are just codified versions of what the community invented on its own, many of us hoped Twitter would just build some proper support.
Instead, Twitter pushes for more and more ways to get users to embed images, totally failing to actually make them useful to users who cannot view them. The latest effort is Twitter's #GIFparty, where my timeline is now full of bandwidth-hogging, battery-draining, context-free animated GIFs. Like these from Twitter:
Initiate the House Party Protocol, @Marvel. #GIFparty pic.twitter.com/AnlLBGqoE1

— Twitter (@twitter) March 3, 2016
Never gonna GIF you up, @rickastley. #GIFparty pic.twitter.com/Ustoy7Ip1N

— Twitter (@twitter) March 3, 2016
The #GIFparty is moving to Direct Messages! Invite friends to a private afterparty and GIF like nobody's watching. pic.twitter.com/T2C99WT1p0

— Twitter (@twitter) March 3, 2016
Which were preceded by these gems leading up to the announcement:
February 17, 2016
February 17, 2016
February 17, 2016
February 17, 2016
If, like me, you block Twitter on non-Twitter sites via Ghostery or similar, then you are seeing them as I intended — embedded without images.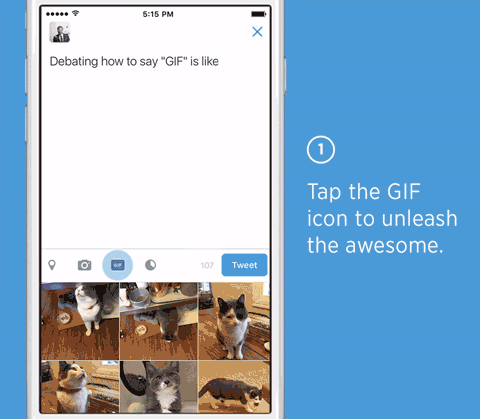 But here's the rub: we know there is at least some form of meta data available in text form. The Twitter announcement and corresponding animated GIF tweet both explain that you can search for an image. Using text, of course. Text that describes the image (probably not very good text, but certainly more than no text at all).
Is that text content exposed anywhere in the tweet? Perhaps as some form of alternative text? Maybe a clue what I'll see before I tell my Twitter client to use my bandwidth to pull down the animation? Nope.
That's disappointing. It is not surprising, however, when you consider that you as the user are not Twitter's customer. Your sole role as a user is to continue to create content that draws users who create more content, and so on. After all, Twitter can't satisfy its real customers if you aren't creating Twitter's compelling content.
Why Can't Someone See Twitter Images?
I'll just re-print my list from a prior post:
Maybe she is on a tiny device and text in a small image with artifacts is illegible.
Maybe he is on an unreliable connection and the image hasn't loaded yet (nor ever will).
Maybe she has a mis-configured ad-blocker that is overzealous with its blocking.
Maybe the tweet isn't in the reader's native language and he wants to translate it.
Maybe the text contrast is too low for a small screen or sunlit screen.
Maybe she is bumping against data caps and has to pay for each extra byte.
Maybe he is on a feature phone (think of users outside of North America and Europe).
Maybe she relies on searching the text of the stream to find relevant tweets.
Maybe he is blind and can not see the image
You Suggested the Community Has a Solution, Right?
I did. Thanks for noticing. The community has a few solutions to the non-animated GIFs, which I also outlined in that other post, but am re-printing here:
Link to the source. Most of these tweets are screenshots from web pages, so link to them.
Use Tumblr or a similar platform. Twitter Cards will embed the image into the tweet (except for Instagram).
Tweet your own text version or abstract in a follow-up tweet.
When you are retweeting someone else, include an abstract or link to the source.
Ask the original tweeter for the text or the URL of the source.
Use a tool meant for this purpose, like Easy Chirp (an example using a useless tweet from the CDC).
Write less. Get to the point, focus on the message, write for the medium.
As for solutions for the animated GIFs (which we all know aren't GIFs), we'll have to see if tweeting text-replies will be the best fit.
2 Comments
Thanks, Adrian, for bringing this up!

A couple of years ago, I've asked Hootsuite to add an option for adding alt text. My suggestion didn't get too many votes, so nothing has happened. It's disappointing because accessibility is not a nice-to-have feature and fixing it shouldn't depend on winning the popularity contests. That in itself is worthy of a separate rant!

cheers
Iza