Thanksgiving, Social Media and Tech Support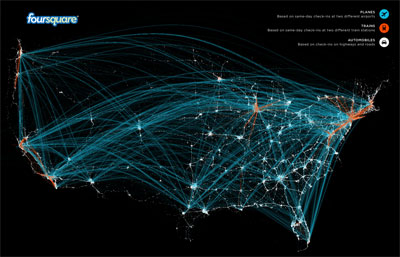 Does this Foursquare map of holiday travel look like a turkey to anyone but me?
Three years ago I hosted Thanksgiving at my house, tweeting photos of the bird and small brush fire. Two years ago I wrote a post Enjoying Thanksgiving with Social Media and then wrapped my car around a lamppost instead of enjoying it. Last year I ran with the topic again and wrote Thanksgiving and Social Media, Redux, had a lovely meal without crashing, and mourned the coming doom of my favorite photo sharing site.
This year people are trying to make it different, and I don't know that I like all of the suggestions.
My not-so-local grocery store is using social media to help people who might be in a bind, offering to help folks who tweet it with the #Turkey911 hashtag, something that is happening across the country. Having quick access to someone who can help you is far better than calling the real 911, and is something that we just couldn't do very easily a few years ago. At least not without calling the one family member that maybe you don't want to tell that you are struggling.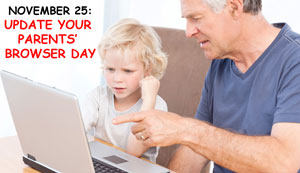 Wait, what's that typeface? You want to be taken seriously?
Much as I'd like to talk about the typeface used in the photo I lovingly stole from the Atlantic article, Forget Shopping, Friday Is Update Your Parents' Browser Day!, I'm not going to. Instead I am going to marvel in awe at the suggestion that younglings sneak off to their parents' computers (insert grandparents, aunts and uncles, elder host, etc.) and fiddle with them. The article at least counsels the intended saviors (but instead unwitting harbingers of doom) not to move their parents to a new browser, but to at least try to keep them using what they are used to. There are two key problems with this:
The browser will work differently, whether within the UI or just from how pages look;
Some machines just can't be upgraded without slowing them or upgrading them;
Most IE6 offenders (who I suspect the article is truly targeting) are corporate users who can't change it (and aren't hosting you in their office).
Those first two will result in needless frustration on the part of your parents (elders) and deserved tech support hassle for you.

Gizmodo took this creepy photo from True American Dog.
For much of my family they only know that I "work with computers." While it is somewhat accurate (although nearly everyone works with computers nowadays), to them it means I can fix them along with any other electronic device ever invented. Since I tend not to wear my "No, I will not fix your computer" T-shirt to more formal events, I am often assaulted with the kind of help desk questions that make 11-year-olds cringe.
Gizmodo feels my pain and is trying to help with its article How to Keep Thanksgiving From Being a Family Tech Trainwreck. Though the article attempts to keep your hassle to a minimum, it also recommends you upgrade, nay, crossgrade your parents to a whole new browser. Don't be a twit, you'll get calls forever. Otherwise the article offers good advice — answer their questions for them, not for you. Pushing your parents to some new bleeding edge tech is just more hassle for you in the long run. Pay attention to what tech they complain about (is the TV remote to complicated? do they struggle with the computer set-up at their job?) and steer clear of creating an analogous situation.
If you really want to help, make notes of everything you do and pass them down to your children. Then when you are struggling with new technologies in your old age, you can justify your smugness at how new technology has it all wrong and your children can justify their pity for you.

MOAR!
Now go relax. Read The Oatmeal's comic on Thanksgiving as a Kid vs. as an Adult. Prepare for where you'll site using College Humor's Thanksgiving Seating Chart. Take this Map of Thanksgiving Dinner to plan your assault on Crudités Dam. Go over to the Opera site (the folks who make the browser, not the faster-than-light neutrino source) and weigh in on whether or not the lucky bird should live. In short, disregard your family and stare at your computer/phone all day, just like the moody teen we all truly are.
No comments? Be the first!