Social Media Club Buffalo: #TacoVino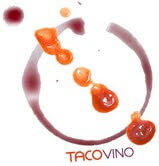 Last night the local Social Media Club chapter here in Buffalo put on the event TacoVino, a wine tasting paired with a local taco truck who has social media to thank for some of its success. City Wine Merchant opened its doors, and bottles of wine, while Lloyd Taco Truck made a special menu of duck tacos along with its regular fare.
As you look at the photos below, please keep in mind I got there a little early to take photos before the crowd arrived, that's why they may seem a little empty. I wanted to spend my time there being social, not playing photographer. After all, that was kind of the point of the event.
The event had to be capped at 50 people owing to the size of the venue, making for a smaller crowd than previous events, but it also set the tone for conversations to flow more easily and people to connect with familiar faces from previous events. Unlike those previous events where the Tweet wall garnered a fair amount of attention, probably owing to the novelty, the two tweet walls set up for this event were largely ignored by the crowd in favor of human-to-human interaction. Given the social nature of the medium, I think that's a good sign as opposed to a silent room of 50 people with only the sound of thumbs on phone displays. Regardles, the #TacoVino hash tag saw a fair amount of activity throughout the night.
I am always a little surprised when people comment to me that they not only see my food tweets, but often look at the photos of that food. Moreso when those people represent some of the larger local companies who have established a social media presence. Of course, I was obligated to post some photos of the food. Mostly to make those who didn't register in time a little jealous for what they were missing.
Credit to pulling off the event goes to the SMCBuffalo president and vice president, Nicole Schuman (@Buffalogal) and Frank Gullo (@frankgullo); Kate Wolcott (@k8creative) for the creative; Susan Cope (@susanlynncope) and Terri Swiatek (@TerriSwiatek) for event planning help; and City Wine Merchant (@ericbuffalo) and Lloyd Taco Truck (@whereslloyd) for venue, wine and food.
Given the great press the Buffalo chapter of Social Media Club recently garnered (Social Media Club Puts Buffalo on Whole New Map), I hope we can pull together more of these events and help show the other chapters, and social media types, just how strong that community is here in Buffalo.

Previous Events
4 Comments
Yes! Great post. Thanks, Adrian!
Nice evening, kudos to the collective efforts of all
this was an excellent post adrian! thank you!!!! it was a great night!
Thanks! I think fun was had by all. Except maybe the VW van that tried to take Lloyd's spot…