My Print Styles Article in .net Magazine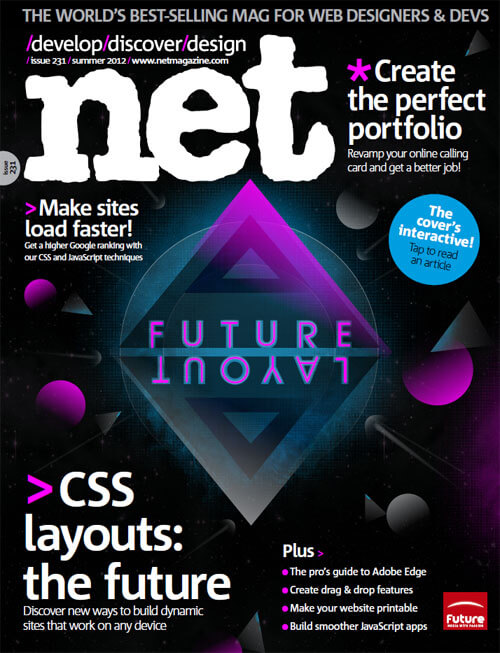 The Summer 2012 (#231) issue of .net Magazine has my tutorial on making print styles for your site. Not only did I get four pages, the article got a mention on the front cover (small though it is) and my photo in the contributors section.
If you've spent much time here or following me on Twitter, then you know I have written plenty about the lack of print styles on modern sites, particularly those claiming to use responsive techniques. I figured it was about time I showed some techniques to make it happen and hopefully demonstrate how dreadfully simple print styles are to do.
While my article is clearly the stand-out piece in the magazine, and totally worth getting just for my work, there is some other stuff in this issue that might interest you:
Creating flexible layouts that will work on any device and any screen size is the next big challenge for CSS. In this month's issue Peter Gasston takes us on a tour of some well-implemented properties you can use now as well as the exciting proposed properties we could be using in the future.

There's also a guide to creating or updating your online portfolio from Gary Marshall, an interview with Elliot Jay Stocks and tutorials on HTML5's Drag and Drop API and building a basic responsive site with CSS. Here are some more highlights:

Build smoother JavaScript apps
Make your website printable
Make your sites load faster
The pro's guide to Adobe Edge
Build an ecommerce store
Using PHP Data Objects
By the way, in case you want to read up on some of my prior discussions about print styles, here's a handy list of links for you:
Update, March 5, 2013
My print CSS article has appeared on the .net Magazine web site, though the web site excludes the sidebars on Print Shame and QR codes in print layouts.
Update, June 28, 2014
After Net Magazine was subsumed by Creative Bloq, all the addresses for old articles were broken (once the articles were finally added). I have fixed the links above to reflect the new addresses.
No comments? Be the first!