Two Advent Calendars for Web Developers
One of the best parts of December, regardless of whether you believe in Christmas or that it belongs in December, is the fun of the advent calendar. As a kid I used to look forward to jamming a new piece of creche-themed chocolate (chocolate stablehand, anyone?) into my mouth every morning before breakfast. Now that I am a little older and can wait until after breakfast, I can also appreciate more evolved advent calendars.
24 Ways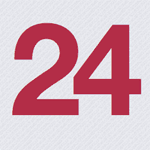 Today marks the start of 24 Ways, an article-a-day site presenting web design and development posts from authors such as Dan Mall, Simon Collison, Richard Rutter, Cennydd Bowles, Sarah Parmenter, Veerle Pieters, etc. The site has been dispensing holiday nuggets ever December since 2005 and, based on past years (2005, 2006, 2007, 2008, 2009), this year will have some gems. Last year I had a write-up on 24 Ways as well (24 Ways Is Back Over 24 Days), and I can tell you that I have referred back to some of the posts often.
You can find daily updates right on the home page, or by following 24 Ways on Twitter (@24ways), Facebook and/or following the RSS feed in your favorite aggregator (full content of each article is in the feed).

This year 24 Ways is changing it up and also offering a printed annual with all the 2010 articles with all the proceeds from the sales to be given to UNICEF. The printed version of 24 Ways is only on sale during December 2010 (for £8) and will be printed at some point after that. You can read more and place an order at the 24 Ways Annual site.
Adfont Calendar
Fontdeck has created its own advent calendar, or its Adfont Calendar (see the image above). Each day a user can select the appropriate "drawer" to access another free web font special. Here's the cool part about it — these are web fonts.
Before you get too excited, it's clearly a sales promotion, but at least you get to try out some new typefaces and enjoy a discount to buy the whole thing. According to Fontdeck, all of their web fonts are free to trial for up to 20 visitors, but the fonts in the Adfont Calendar are also free to upgrade for use on a web site with up to 1 million page views. You will need to sign up for an account and provide Fontdeck with the URL of the site on which you will use the typeface. Once you do that, Fontdeck provides you with code to link to the CSS file and the appropriate CSS to use in your site.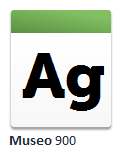 I signed up for today's free font, Museo 900. All I had to do was create my account and then click the big red "Purchase font licenses" option. Since it's a $0 annual license, I wasn't too concerned about clicking the button (but I shouldn't count on it lasting past December 1 of next year). I was presented with a block of text that, comfortingly, read:
Thank you! We've upgraded this account to unlimited use – now all your site visitors will see the fonts.
And that's it. It looks like it's good to go. Now, today's offering isn't exactly the typeface I would choose for my site, so I will be visiting daily to see what other typefaces open up this month.
If you are really itching to play around with web fonts and want more options, check out the article I wrote in July, Trying Google Font Previewer.
No comments? Be the first!