Securing Facebook Places (from Your Friends)
Facebook Places is out. It's the Foursquare / Gowalla / Brightkite / Loopt / etc.-killer. Or so Facebook hopes. All of those services have some pretty clear controls in place to limit how much information you share. Granted, you can mess up even their simple privacy controls and share the address of your Mom's house with the town crazy (assuming he/she is technical enough to use the software, and cares), but at least the model is simple. Facebook, on the other hand, has gotten (earned) quite the reputation for having convoluted security screens that make it way to easy for the average user to expose more than intended. Facebook Places takes it a step further and can allow your own Facebook friends to announce your location to the world.
Instead of reformulating something I've already written (making smart choices about what you share from the physical world), I'll just link you there (Don't Let Social Media Get You Robbed (or Stalked)) and instead outline how you can change the security settings in Facebook to protect your information. To be fair, Facebook just launched this feature yesterday, so you can expect it to change over time. You may want to review your security settings in Facebook on a regular basis.
There are two sets of instructions below, each with a set of screen shots. Make sure you go through both. Click the screen shots for the full size image.
Adjust Check-in Visibility, Disable "Friend Check-Ins" and "Here Now"
Choose Privacy Settings from the Account menu (upper right).
Choose Customize Settings.
Adjust Places I check in to what you prefer (I suggest no more than "Friends only").
Uncheck the box next to Include me in "People here now" after I check in.
Choose "Disabled" from the Friends can check me in to places menu.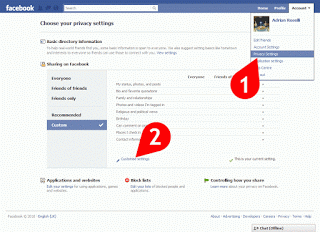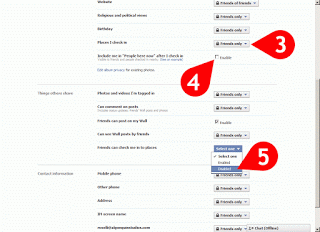 Preventing Your Friends' Apps from Accessing Your Places Info
Choose Privacy Settings from the Account menu (upper right).
Choose Edit your settings from under the "Applications and websites" section on the bottom left.
Click the Edit settings button from the "Information accessible through your friends" section.
Uncheck Places I've visited.
Don't forget to Save Changes.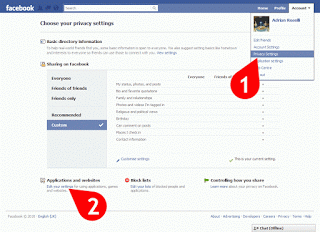 And with that you should be locked down. Remember, though, check it now and then. Make sure new items haven't been added or things haven't changed.
Related
2 Comments
Five steps, that's a FB record for "simplicity". You'd think with their $$ they'd hire some good folks to assess and fix their many usability issues.
Actually, it's 10 steps if you also want to block your friends' apps from accessing it. The other tutorials I've seen online are totally missing that. Which tells you something — if Lifehacker can't get that part, then it's still as convoluted as the rest of the privacy settings.