YouTube Opens Auto-Captioning to All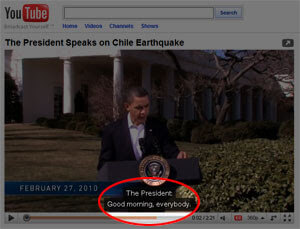 If you've been reading my blog for a while now then you may have noticed my post back in November titled YouTube Will Automatically Caption Your Video. In that post I talked about YouTube leveraging Google Voice and its speech recognition features to automatically generate video captions. That feature was only available to a subset of all YouTube users, a "small, select group of partners."
On Thursday YouTube announced it will open that feature to all YouTube users (The Future Will Be Captioned: Improving Accessibility on YouTube). In reading the post on the YouTube blog, it looks like they will be working through all the videos on YouTube. Video owners who want to speed up the availability of auto-captions on their videos can click a "request processing" button, hopefully dropping it into a queue. However, since it's a free service, I wouldn't expect them to set a deadline with you.
The blog post lists a few things to keep in mind:
While we plan to broaden the feature to include more languages in the months to come, currently, auto-captioning is only for videos where English is spoken.
Just like any speech recognition application, auto-captions require a clearly spoken audio track. Videos with background noise or a muffled voice can't be auto-captioned. President Obama's speech on the recent Chilean Earthquake is a good example of the kind of audio that works for auto-captions.
Auto-captions aren't perfect and just like any other transcription, the owner of the video needs to check to make sure they're accurate. In other cases, the audio file may not be good enough to generate auto-captions. But please be patient — our speech recognition technology gets better every day.
Auto-captions should be available to everyone who's interested in using them. We're also working to provide auto-captions for all past user uploads that fit the above mentioned requirements. If you're having trouble enabling them for your video, please visit our Help Center: this article is for uploaders and this article is for viewers.
The obvious benefit here is the ability to satisfy accessibility requirements and open your content to a broader audience. This also can help in your ability to search for videos with appropriate content since the captions live in a separate text file that is pulled into the video, all powered by Google. In addition, with Google's free translation services, it will be far easier to translate videos into multiple languages, reaching an even larger audience.
Update: February 29, 2016
Take a look at Web Axe's post Captions and YouTube for tips on how to correct YouTube's auto-captions.
No comments? Be the first!