Web Graphics for Non-Designers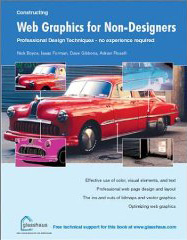 I was fortunate enough to have a hand in picking the other authors and lucked out when Isaac Forman, another evolter, was picked to write with me. Aimed at non-designers, we cover everything from color theory to typography to image formats to image optimization. There's a lot of good stuff in here, and since it's printed in full-color, it's really quite nice to look at.
The front cover is a photo taken by my brother, Paris Roselli, and each author had the opportunity to digitally manipulate the photo however he wanted, resulting in four interesting treatments. Each chapter is opened with the author's manipulated image, which I suppose gives insight into their twisted design sensibilities (and yes, mine, too).
The book got great reviews from the community, particularly those who were more technically skilled and pressed into service as web designers. It maintained an average 4-star ratiing at Amazon for its run.